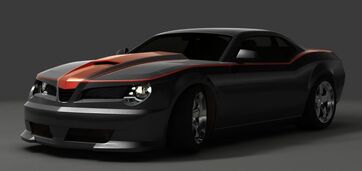 Wolfseye GT is the starter car in Ridge Racer Unbounded. The car was modeled after 2007 Chevrolet Camaro. The car appears in Ridge Racer Unbounded trailers when Kara Shindo,the leader of The Unbounded exits the Kamata RC410 and enter the Wolfseye GT. This car is also the cover car of Ridge Racer Unbounded along with Motega XR.This car is a real car.Its called the Firebreather Camaro.
Special Soul Calibur paintjob for this car is available for those who preordered the game.
Specifications
Shindo Wolfseye
The Shindo Race version of Wolfseye. It has rear spoiler, different hood,and special Shindo Race paint job that distinguishes itself from the normal Wolfseye.
Ad blocker interference detected!
Wikia is a free-to-use site that makes money from advertising. We have a modified experience for viewers using ad blockers

Wikia is not accessible if you've made further modifications. Remove the custom ad blocker rule(s) and the page will load as expected.