The Soldat Raggio is an race car that is manufactured by Italian automaker, Soldat. The shape of this car resembles the Enzo Ferrari (back of car) and the Honda NSX (front of car). It was featured in Ridge Racer (PSP) and Ridge Racer 2 (PSP) front cover. and got renamed as Soldat Rauna in Ridge Racer Vita but its head lights are updated
In Ridge Racer (PSP)
Specs (Ridge Racer PSP)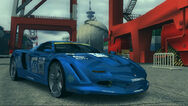 Made In: Italy
Drift Type: Dynamic
Engine: V12
Max RPM: 9500
Length: 182 inches
Width: 79 inches
Height: 46 inches
Max Speed: 161 mph
Description: A purebred race machine, Raggio's throaty 12 cylinder engine excites racing fans around the world.
In Ridge Racer 6
Trivia
The Soldat Raggio may be the successor to the Rivelta Solare, since Soldat purchased the Rivelta line and closed it down. Further evidence is that the Raggio's Class 6 Type-S paint livery is the Rivelta's default paint scheme.
Raggio in Italian means "Ray".
Soldat Raggio also makes a cameo in Time Crisis 4. On the Prologue stage, you can see a billboard that advertise Raggio.