Sinseong Motors (Japanese: シンションモーターズ, Korean: 신성 자동차), sometimes simply called Sinseong, is an South Korean manufacturer of sports cars, noted for making their debut car, the Jujak in Ridge Racer 7. Sinseong is based after Hyundai Motors.
Cars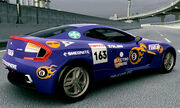 As of Ridge Racer Slipstream, the only known car produced by Sinseong is the Jujak. The Jujak is a high-tech sports coupe that features multi-torque control matched to weather and road conditions and an obstacle sensing system in machine view. It is also the first street-legal vehicle to implement AEV.
Trivia
Sinseong's name could be a possible play on SsangYong Motors, as both both SsangYong and Hyundai are major Korean companies that produce cars.
Sinseong is the only manufacturer in Ridge Racer 7 that does not have a Special Machine. In fact, Sinseong is the only manufacturer in the series that have yet to produce a special machine; this is in contrast with Zihua, in which their only known product so far, the Zihua Archangel, is a special machine.
Sinseong means divine in Korean.
Ad blocker interference detected!
Wikia is a free-to-use site that makes money from advertising. We have a modified experience for viewers using ad blockers

Wikia is not accessible if you've made further modifications. Remove the custom ad blocker rule(s) and the page will load as expected.