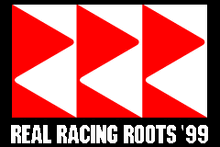 Real Racing Roots is the name of Ridge Racer Type 4's Grand Prix mode. As of the 1999 season, four teams and four manufacturers compete in a season held in two countries, Japan (with Fukuoka and Yokohama being the host cities) and USA (with New York and Los Angeles being the host cities).
Timeline
1949 - Founded by Louis Age. Inaugural season held in Avignon, France
1965 - Assoluto debuted in RRR
1967 - Racing Team Solvalou entered Real Racing Roots. Enki Gilbert retired racing at this point.
1975 - Rules revision to 8-course survival battle
1987 - 19th Real Racing Roots held in Chicago, USA
1991 - Revision of rules. New qualifying conditions to 4 category system
1993 - Introduction of 350 km/h maximum speed limit
1996 - Introduction of Reiko Nagase for the 1997 season
1997 - Rage Racer takes place, Gnade withdraws at the end of this year
1999 - Introduction of two-country system, Ridge Racer Type 4 takes place this year
Teams
Manufacturers
Ad blocker interference detected!
Wikia is a free-to-use site that makes money from advertising. We have a modified experience for viewers using ad blockers

Wikia is not accessible if you've made further modifications. Remove the custom ad blocker rule(s) and the page will load as expected.