The Comrade is a sports car manufactured by American manufacturer Lizard and featured exclusively in Ridge Racer Type 4.
Design and performance
It features an American take of the classic "long hood, short deck" proportions found in many sports cars. The front end is somewhat aggressive looking with a pointed nose. Performance wise, it's powered by a large 8 liter V10, mated to a 6-speed transmission.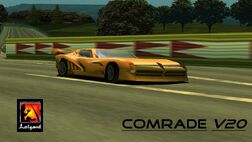 Ad blocker interference detected!
Wikia is a free-to-use site that makes money from advertising. We have a modified experience for viewers using ad blockers

Wikia is not accessible if you've made further modifications. Remove the custom ad blocker rule(s) and the page will load as expected.