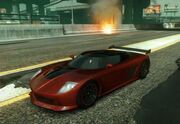 The Hurricana CX is a sports car in Ridge Racer: Unbounded.
Design
The overall shape of the car,greenhouse area,front and sides making it to resemble the Koenigsegg CCX with certain styling cues from the Ford GT and Lamborghini Murcielago in the headlights.
Performance
The car is capable is having better acceleration and handling that is able to compete with the Dorean LE as it is the 2nd fastest car in the game.The car is able to weave into small or tight corners as it's lightweight body.There are no loss of power during gearshifts except for it's top speed the Dorean LE is only superior.
Ad blocker interference detected!
Wikia is a free-to-use site that makes money from advertising. We have a modified experience for viewers using ad blockers

Wikia is not accessible if you've made further modifications. Remove the custom ad blocker rule(s) and the page will load as expected.