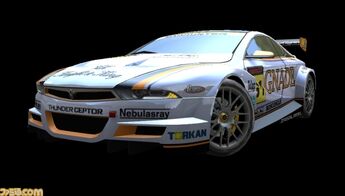 The Gnade Dignistar is a luxury sports car manufactured by Gnade of Germany.
In-game description: Following in the Esperaza's footsteps, this luxury car first made its astounding world premiere at the frankfurt auto show. As part of the Gnade tradition, the DIGNISTAR boasts incredible stability at high speeds, and went thorugh rigorous touring car standards testing, while still carrying a showfloor-worthy precense. Its bumper and fender have been modified to give it a hint of stock car appearance. Striking looks coupled with a performance that rivals super sports car gives the DIGNISTAR the reputation of being a wolf in the sheep's clothing and seems to be tuned as a Touring Car that uses Nitrous and with good drifting
The car seems to bear Mitsubishi references, such as the front fascia similar to the late 1990s-early 2000s Mitsubishi Galant and overall profile of 2006 Mitsubishi Eclipse GT. The wheels seems to be based of BBS RX alloy wheels, with the difference being the in-game rim having a single piece lug nut.
Ad blocker interference detected!
Wikia is a free-to-use site that makes money from advertising. We have a modified experience for viewers using ad blockers

Wikia is not accessible if you've made further modifications. Remove the custom ad blocker rule(s) and the page will load as expected.