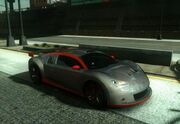 Description
The Dorean LE is a sports car in Ridge Racer: Unbounded.
Design
The car features a mixture of French and American styling elements found on the Bugatti Veyron for greenhouse area and Chrysler ME Four-Twelve for the front.
Performance
Similar to it's real life counterpart, the Bugatti Veyron having the highest top speed.The handling and is acceleration is being defeated by it's competitor, Hurricana CX as it does keep steady on tight corners and also the (Dorean LE) has poor handling due to it's weight.
Ad blocker interference detected!
Wikia is a free-to-use site that makes money from advertising. We have a modified experience for viewers using ad blockers

Wikia is not accessible if you've made further modifications. Remove the custom ad blocker rule(s) and the page will load as expected.