The Danver Bayonet is a car manufactured by Danver. It is previously appeared in Rage Racer, in which Lizard Bayonet resembles some sort of a Corvette. To date, the car resembles Chrysler Crossfire with a few details of Aston Martin V8 Vantage on the front
Rage Racer
It was first debuted in Rage Racer as Lizard Bayonet, introduced in-game as Lizard's Grade 3 car, featuring a selection of V8 engines depending on class. It has great acceleration performance and decent top speed, but otherwise poor handling and grip statistics.
Ridge Racer (PSP)
With its fierce image completely redesigned for European tastes, this all-new Bayonet made a sensational debut at a recent motor show. It still retains the sleek looks and thrilling performance of its predecessor.
Made In: USA
Drift Type: Dynamic
Engine: V8
Max RPM: 6500
Dimensions (inches): l/w/h 181/79/46
Max Speed: 136 MPH
Ridge Racer 6 and 7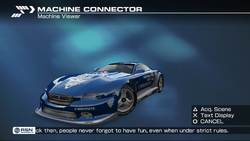 "Mix high-tech and high-power, and the result is the next-generation American coupe, the BAYONET. New features such as the DFB System, which analyzes and adapts to each individual driver's habits, and the GIA System, which continuosly adjusts to changing road conditions, round out its feature set. Its V8 engine is a fine example of American Muscle, and although it is completely computer-controlled, the power produced is nothing short of outstanding."
―Ridge Racer 6 description of Class 1 Bayonet.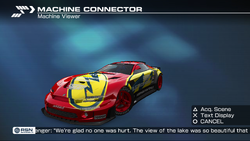 "The Bayonet became popular after it was featured in a car action movie. A remake of the machine featured in the movie has been released as a special edition model and is proving to be even more popular then expected. This next-generation coupe features a wild, sexy exterior and a gorgeous interior, featuring all of the latest electronic gadgets."
―Ridge Racer 7 description.
The Bayonet reappears in
Ridge Racer 6
and 7 with a facelifted appearance, featuring new front and rear end designs as well as a new set of five-spoke wheels.
In Ridge Racer 7, the car possesses excellent acceleration and Ultimate Charge abilities. Being a Dynamic-type car, it can slide easily and rather exuberantly, albeit slightly hampered by a rather underwhelming inertial drift rate. Top speed wise, it has the highest top speed among the Category 4 starting cars.
Exclusive to Category 3 in Ridge Racer 7 is the Complete Machine version of the Bayonet, obtainable by scoring 100 Manufacturer's Points with Danver.
Ridge Racer Slipstream (iOS)
Specs: Class 04
Top Speed: 246km/h
Acceleration: 19.60s
Grip: 1.56G
Drift: 31%
Price: 21000CR
Gallery