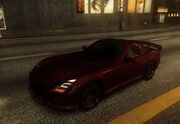 Description
The Crosshare XR is a sports car in Ridge Racer: Unbounded
Design
This vehicle is based on the SRT Viper GTS due to it's greenhouse area,long front end and sides.The front end of this car closely resembles the Mercedes Benz SLS AMG for the headlamps and Gumpert Apollo for the face of the car.
Trivia
This vehicle replaces the Age Prophetie because this vehicle is based on the 2013-present VX SRT Viper while the Prophetie is based on a 2002-2010 ZB Dodge Viper.
Ad blocker interference detected!
Wikia is a free-to-use site that makes money from advertising. We have a modified experience for viewers using ad blockers

Wikia is not accessible if you've made further modifications. Remove the custom ad blocker rule(s) and the page will load as expected.