"Age Solo is the performance car division of French auto manufacturer Age. Age Solo is renowned for their lightweight cars."
―R4: Ridge Racer Type 4 (referring to Age Solo)

Âge (pronounced: Ah-dge, Japanese: アージュ) is a French car manufacturer which is known for its grip and easy handling in early games, first appearing in Rage Racer. Depending on the game, the manufacturer also competed under the brand Âge Solo (Japanese: アージュ・ソロ), their performance division, established in 1998. Age is founded by Louis Age, which made his first ever car in 1898 at a young age of 21 (he was born in 1877).
Âge is Ridge Racer's counterpart to Renault.
List of cars manufactured by Âge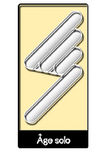 Trivia
Ridge Racer Type 4's description of Âge Solo stated that it is actually Âge Motors' performance division.
The description of the Ultranova stated that Âge is the winner of 2004 Ridge State Grand Prix (listed as Ridge World Grand Prix), canonically making Age the winner of Ridge Racer (PSP).
The wing logo used by Âge Solo might be a hint at their Special Machine having the angel car status in R4.
According to a NicoNico article about Ridge Racer, Louis Age is also the founder of Real Racing Roots.
Ad blocker interference detected!
Wikia is a free-to-use site that makes money from advertising. We have a modified experience for viewers using ad blockers

Wikia is not accessible if you've made further modifications. Remove the custom ad blocker rule(s) and the page will load as expected.