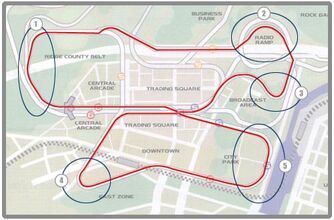 Above the City
is a track introduced in
Ridge Racer V
. The track is an expansion of the
Park Town
course.
This course is a figure eight circuit that skirts around downtown Ridge City, making use of the city's elevated freeways. This course should be called Through the Sky Scrapers or something considering that for most of the race you are several stories in the air. The familiar beginning to the race takes you through the tunnel at the edge of the Central Arcade and from there you stay city bound by passing near the West end of Trading Square. At this point the road goes skyward where you have to navigate a series of breakneck corners through the Broadcast Area. You'll then pass over the starting grid on the freeway above where you'll head into a very tight left near the East Zone. From there it's more Downtown scenery as you descend back down to sea level and the last pair of lefts before the final stretch to the finish line.
Ad blocker interference detected!
Wikia is a free-to-use site that makes money from advertising. We have a modified experience for viewers using ad blockers

Wikia is not accessible if you've made further modifications. Remove the custom ad blocker rule(s) and the page will load as expected.